Quantitative evaluation of personal protective ensembles relative to heat strain
Extreme Physiology & Medicine volume 4, Article number: A133 (2015)
1851 Accesses

1 Citations
Introduction
Personal protective equipment (PPE) exacerbates heat strain experienced by users through: (a) increases in thermal (Rt) and evaporative (Ret) resistances; and (b) increases in metabolic rate () during physical activity driven in large part by ensemble weight. This study aimed to quantify the effects of PPE Rt & Ret and ensemble weight on heat strain during walking.
Methods
Stepwise thermal manikin (TM) testing and modeling were used to analyse a three-layer PPE ensemble (weight 37.4 kg). Layers: uniform (A); body armour and combat load (B); chemical protective clothing (C). The PPE was tested on a TM to measure Rt & Ret, starting with layer A and then adding an additional layer in each step. during walking at 1.22 m.s-1, adjusted () for the layer weight, were 300, 404 and 428W for configurations with A, A+B and A+B+C, respectively. A human thermoregulatory model was used to predict endurance time (ET, min) for each configuration at a fixed () of 300 W and at its . ET was defined as time needed for the core temperature to rise to 39 °C.
Results
The left figure indicates the fractional contribution of each layer to Rt & Ret of the whole system (A+B+C). The right figure is the predicted ET, showing influences of B or B+C in comparison with A. The difference between A and A+B- indicates ET reduction due to Rt & Ret with added B, and the difference between A+B- and A+B- indicates ET reduction due to the weight of B. Thus compared with ET for A of 146 min, the Rt & Ret of B reduce ET by 31 min while the added weight reduces ET by 40 min further. Similarly, the increased Rt & Ret of B+C reduce ET by 59 min, while the added weight reduces ET by 28 min.
Discussion
This study (a) reveals the fractional contributions of PPE resistances by layer, (b) demonstrates the effects of PPE weight on ET and quantifies ET reduction due to increases in associated with PPE weights, and (c) isolate the contributions of two different PPE properties, Rt & Ret and ensemble weight, to predicted heat strain. Impacts of each PPE layer on ET can be quantified by this approach.
Conclusion
This study provides a new systematic approach to understanding more the aetiology of heat strain, and to designing PPE to maximise user protection while minimizing heat strain.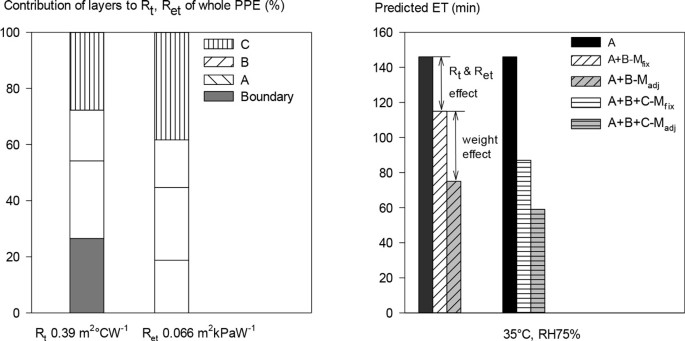 Acknowledgements
The views expressed in this abstract are those of the authors and do not reflect the official policy of the Department of Army, Department of Defense, or the U.S. Government.
Rights and permissions
This article is published under license to BioMed Central Ltd. This is an Open Access article distributed under the terms of the Creative Commons Attribution License (http://creativecommons.org/licenses/by/4.0), which permits unrestricted use, distribution, and reproduction in any medium, provided the original work is properly cited. The Creative Commons Public Domain Dedication waiver (http://creativecommons.org/publicdomain/zero/1.0/) applies to the data made available in this article, unless otherwise stated.
About this article
Cite this article
Xu, X., Gonzalez, J. Quantitative evaluation of personal protective ensembles relative to heat strain. Extrem Physiol Med 4 (Suppl 1), A133 (2015). https://doi.org/10.1186/2046-7648-4-S1-A133
Published:

DOI: https://doi.org/10.1186/2046-7648-4-S1-A133
Keywords
Physical Activity

Core Temperature

Endurance Time

Additional Layer

Personal Protective Equipment