Mitochondrial responses to extreme environments: insights from metabolomics
Extreme Physiology & Medicine
2015
4:7
Received: 18 February 2015
Accepted: 7 April 2015
Published: 4 May 2015
Abstract
Humans are capable of survival in a remarkable range of environments, including the extremes of temperature and altitude as well as zero gravity. Investigation into physiological function in response to such environmental stresses may help further our understanding of human (patho-) physiology both at a systems level and in certain disease states, making it a highly relevant field of study. This review focuses on the application of metabolomics in assessing acclimatisation to these states, particularly the insights this approach can provide into mitochondrial function. It includes an overview of metabolomics and the associated analytical tools and also suggests future avenues of research.
Keywords
Metabolomics
Extreme environments
Mitochondria
Review
Background
Human populations have successfully settled in an extraordinarily diverse range of habitats, many of which present significant environmental challenges to life including the extremes of temperature or altitude. Recent research has highlighted the role that natural selection is playing in shaping the genomes of humans in such niche environments [
1
-
4
]. However, despite significant promise, technical advances in other system-wide disciplines such as proteomics and metabolomics have yet to yield widespread insights into human acclimatisation and adaptation to extreme environments. We have previously put forward the notion that systems biology and the study of humans in extreme environments are natural symbionts [
5
,
6
]. In this review, we highlight the application of metabolomics in such studies, with three specific aims:
1.

To serve as a broad introduction to the field of metabolomics for the non-expert, with the aim of promoting its more widespread use in the field.

2.

To illustrate how metabolomics can provide insight into the role of mitochondria in acclimatisation to extreme environments.

3.

To suggest potentially fruitful avenues for future research, deploying metabolomics methods in human extreme environmental research.
Broadly, the review will follow these points in order, starting with an overview of the methods of metabolomics.
Metabolomics and extreme environments
The metabolomics approach aims to measure metabolites at baseline or in the context of a perturbed state. Yet there are a limited number of ethical physiological perturbations that can be used in experiments on humans; these include exercise, nutrition, some drugs and the environment. It has been argued that environmental physiology can provide insight into the system-level understanding of the human body [5] and into a number of pathological states.
Studying the healthy human response to extreme environments has been used widely to investigate fundamental physiology (perhaps with pathological importance) without the confounding factors and complications prevalent in a diseased population [38]. This is particularly relevant for investigations into high-altitude physiology. Inadequate availability of oxygen to the tissues (hypoxia) as occurs at high altitudes is also a feature of a plethora of clinically important conditions. These include lung disease, heart failure, anaemia, cancer and regional vascular diseases [39-43]; indeed, any clinical condition where either convective or diffusive oxygen transport is impaired.
Conclusions
It is clear that metabolomic studies of the human responses to altered climate and environment are worthwhile and lacking (summarised in Figure
1
). Such studies could greatly further our understanding of human physiology and molecular biology. This work has the potential also to further our understanding of diseases that result from, or are akin to, physiology in extreme environments. It is clear that large-scale, longitudinal studies are required as studies conducted over longer periods of time would be better suited to providing information specific to these states. A combined use of targeted and untargeted approaches could also be employed to enable optimal detection.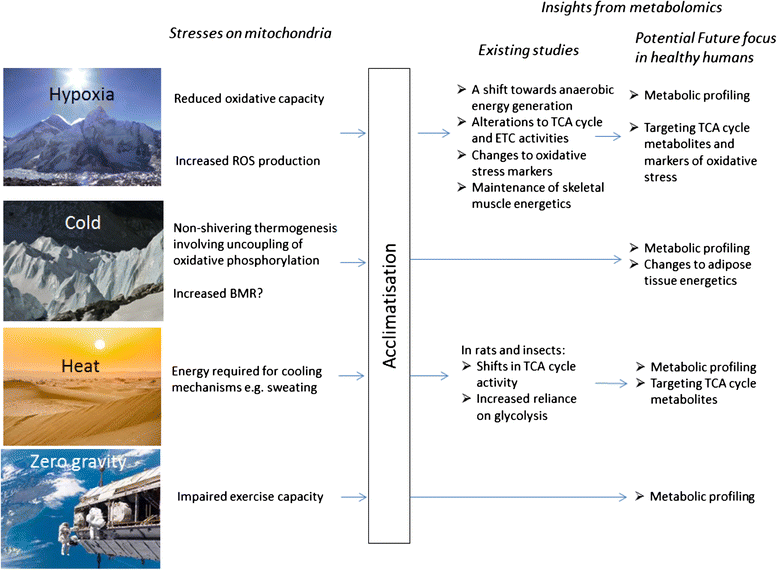 Abbreviations
TCA:

Tricarboxylic acid cycle
NMR:

Nuclear magnetic resonance
MS:

Mass spectrometry
HR-MAS:

High-resolution magic angle spinning
LC-MS:

Liquid chromatography-mass spectrometry
GC-MS:

Gas chromatography-mass spectrometry
ETC.:

Electron transport chain
PCr:

Phosphocreatine
HAPE:

High-altitude pulmonary oedema
BMR:

Basal metabolic rate
Declarations
Acknowledgements
KAO receives a PhD studentship from King's College London. LME receives funding from BBSRC, EPSRC and King's Health Partners. AJM thanks the Research Councils UK for supporting his Academic Fellowship and Action Medical Research, the BBSRC and the British Heart Foundation for supporting research in his laboratory. JLG thanks the Medical Research Council, the BBSRC and the Wellcome Trust for funding his laboratory.
Authors' Affiliations
(1)
Centre of Human & Aerospace Physiological Sciences, King's College London, London, UK
(2)
MRC Human Nutrition Research Unit, Elsie Widdowson Laboratory, Cambridge, England
(3)
Department of Biochemistry, University of Cambridge, Cambridge, UK
(4)
Department of Physiology, Development and Neuroscience, University of Cambridge, Cambridge, UK
(5)
Fibrosis Drug Performance Unit, GlaxoSmithKline Medicines Research Centre, Stevenage, UK
Copyright
© O'Brien et al.; licensee BioMed Central. 2015
This is an Open Access article distributed under the terms of the Creative Commons Attribution License (http://creativecommons.org/licenses/by/4.0), which permits unrestricted use, distribution, and reproduction in any medium, provided the original work is properly credited. The Creative Commons Public Domain Dedication waiver (http://creativecommons.org/publicdomain/zero/1.0/) applies to the data made available in this article, unless otherwise stated.