Nutritional considerations during prolonged exposure to a confined, hyperbaric, hyperoxic environment: recommendations for saturation divers
Extreme Physiology & Medicine
2016
5:1
Received: 31 August 2015
Accepted: 23 December 2015
Published: 7 January 2016
Abstract
Saturation diving is an occupation that involves prolonged exposure to a confined, hyperoxic, hyperbaric environment. The unique and extreme environment is thought to result in disruption to physiological and metabolic homeostasis, which may impact human health and performance. Appropriate nutritional intake has the potential to alleviate and/or support many of these physiological and metabolic concerns, whilst enhancing health and performance in saturation divers. Therefore, the purpose of this review is to identify the physiological and practical challenges of saturation diving and consequently provide evidence-based nutritional recommendations for saturation divers to promote health and performance within this challenging environment. Saturation diving has a high-energy demand, with an energy intake of between 44 and 52 kcal/kg body mass per day recommended, dependent on intensity and duration of underwater activity. The macronutrient composition of dietary intake is in accordance with the current Institute of Medicine guidelines at 45–65 % and 20–35 % of total energy intake for carbohydrate and fat intake, respectively. A minimum daily protein intake of 1.3 g/kg body mass is recommended to facilitate body composition maintenance. Macronutrient intake between individuals should, however, be dictated by personal preference to support the attainment of an energy balance. A varied diet high in fruit and vegetables is highly recommended for the provision of sufficient micronutrients to support physiological processes, such as vitamin B12 and folate intake to facilitate red blood cell production. Antioxidants, such as vitamin C and E, are also recommended to reduce oxidised molecules, e.g. free radicals, whilst selenium and zinc intake may be beneficial to reinforce endogenous antioxidant reserves. In addition, tailored hydration and carbohydrate fueling strategies for underwater work are also advised.
Keywords
Saturation divingHyperbariaHyperoxiaConfinementNutrition
Background
Saturation diving is a unique and challenging occupation, which exposes the body to a range of extreme environmental and physiological stressors [
1
–
3
]. This form of diving allows greater depths to be attained and for longer periods than can be achieved with other forms of diving (e.g. breath hold or bounce diving). Accordingly, saturation diving involves habitation within a dry hyperbaric chamber located on a support vessel (see Fig.
1
), which is pressurised to an ambient pressure equivalent to the depth of the underwater immersion. Divers remain within this pressurised chamber for extended periods (e.g. up to twenty-eight days in the North Sea Energy Sector), thereby allowing numerous underwater excursions without the requirement of a prolonged decompression period following every immersion [
1
,
2
].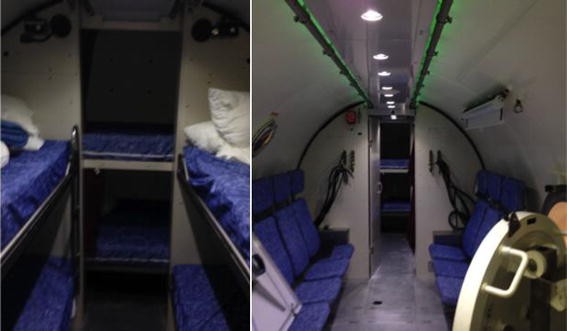 The hyperbaric conditions associated with saturation diving represents the linear relationship between increasing atmospheric pressure and sea depth [1]. Chronic exposure to this unique environment appears to disturb physiological and metabolic homeostasis and has been associated with a range of adverse health and performance-related outcomes [2, 3]. In particular, the environmental conditions of saturation diving have been reported to perturb fluid balance [4–6], redox homeostasis [7–9], immunological function [10] and haematological variables [11]. Furthermore, significant reductions in body mass are commonly reported, specifically muscle mass [12, 13], which may be associated with the attenuation of whole body protein synthesis [14], increased basal metabolism [15] and altered metabolic fuel utilisation [16, 17]. In addition, saturation diving involves confinement within a relatively small space for extended periods, rendering maintenance of usual physical activity habits difficult [18].
Appropriate nutritional strategies have the potential to alleviate many of these physiological concerns; however, limited guidance related to nutritional recommendations for this population is currently available. The purpose of this review, therefore, is to explore the physiological and practical challenges associated with this occupation. These challenges will then be considered within the context of current nutrition guidelines for general and athletic populations, in order to establish specific nutritional recommendations to optimise health and performance of individuals in this unique and challenging occupation. It is beyond the scope of this review to provide an in-depth review of the physical characteristics or physiological and pathophysiological concerns of saturation diving. Readers are directed to alternative reviews for such information [1–3].
Saturation diving
Saturation diving practices differ based on location and sector but can typically extend for periods of up to twenty-eight days within a hyperbaric, mixed gas atmosphere. The compressive forces on the gaseous molecules from hyperbaria result in increased density of ambient air and increased partial pressure of oxygen (PPO2). Typically, the gas mixtures used during a saturation dive comprise a combination of oxygen and helium and/or nitrogen. These latter two gases are known as inert gases, which are deemed to metabolically inactive and thereby purported to have a minimal effect on physiological systems [1–3]. Due to the distinct atmospheric composition in the hyperbaric chamber, saturation divers are exposed to three discrete sequential phases, which are commonly referred to as, 'compression', 'bottom time' and 'decompression'. The purpose of 'compression' is to attain a dynamic equilibrium between the body and the prescribed ambient atmospheric characteristics, which is a gradual process that takes a number of hours. Saturation divers remain in this equilibrated state during 'bottom time', at which, assuming there is no additional change in depth, divers can live freely within the chamber and participate in underwater excursions up to and including the depths that correspond to the chamber pressure. During underwater excursions, which are often termed as 'lockout', saturation divers are immersed underwater in order to conduct a range of manual tasks, such as welding. This period can usually last up to 8 h, six of which are typically spent within the water and the other two being transferred to and from the accommodation area.
'Decompression' is the final phase, during which saturation divers are returned to the terrestrial atmospheric pressures through the gradual reduction of ambient pressure. As with compression, the body equilibrates with the altered ambient atmosphere, which occurs through exhalation of compressed gases from body tissues through cardiorespiratory circulation. This process is associated with potentially adverse consequences, and an increased risk of developing decompression sickness (DCS), which can cause muscle and joint pain, nausea and paralysis. Manifestations of DCS occur via the formation of microbubbles along with associated inflammatory and immunological challenges [19]. In order to reduce the risk for development of DCS, decompression is a slow and tightly controlled process, with the duration's dependent upon the depth descended and decompression rate utilised. Decompression times of 5–6 days are not uncommon. Throughout the 'decompression', saturation divers do not participate in any subsea activities and are limited to the confines of the saturation chamber.
Nutritional recommendations
The effect of dietary intake on metabolic and physiological processes is vast, with the application of personalised nutritional strategies deemed to be most effective in promoting performance and health. Accordingly, the current review aims to synthesise the available literature related to the physiological responses to saturation diving, and to consider these in relation to commonly accepted nutritional principles [20–22]. Recommendations have been made within 4 key categories including: (1) maintenance of energy balance; (2) macronutrient composition of dietary intake; (3) micronutrient requirements and (4) hydration. These recommendations are made based on the available evidence, but remain cognisant of the practical challenges associated with achieving appropriate nutritional intake in this unique environment.
Summary and conclusions
This review aimed to provide nutritional recommendations for saturation divers based upon the physiological and practical challenges encountered by these individuals. The primary recommendations are summarised within Table
2
and these are based on an in-depth review of the available literature, along with consideration of the practical challenges associated with this occupation. It should be noted, however, that substantial gaps exist within the evidence base related to the physiological response of the body to prolonged confinement within a hyperbaric, hyperoxic environment, and much of the available literature is relatively dated and involved small sample sizes, limiting its generalisability to modern-day divers. In accordance with these limitations, the recommendations within this review are made with caution, and are within commonly accepted public health and athletic recommended ranges. This review provides practical, evidence-based guidance that may promote health, safety and performance within this challenging environment and occupation. Further research is required in order to better understand the physiological effect and its clinical significance to the long-term health and well-being of saturation divers, along with the potential of nutritional strategies to enhance health and performance within this group.
Table 2
Summary of nutritional recommendations
Energy requirements during a saturation dive are greater than the surface. We recommend saturation divers should consume between 44 – 53 kcal/Kg BM, dependent on the intensity and duration of subsea shift work. Energy dense foods and high-energy meal replacement supplements should be considered to meet the elevated energy expenditure, particularly if periods of suppressed appetite are experienced post lockout
Protein intakes of at least 1.3 g/kg BM are recommended to support diminished WBPS and reduce periods of catabolism
Fat and carbohydrate intake are essential for achieving energy balance. We recommend the percentage of total calorie intake from dietary fat should be at the top of end of the current IOM guidelines (20-35 %), whilst carbohydrate intake should be at the lower end of IOM recommendations (45-65 %). Despite this we suggest that fat and carbohydrate intake should ultimately be dictated by personal preference to attain energy balance
A varied diet high in fruit and vegetables are recommended for achieving micronutrient targets. More specifically, antioxidants, vitamin B12 and folate are of greater interest due to their respective involvement in redox physiology and red blood cell production
Supplementation with Vitamin D is recommended due to the absence of UVB ray exposure
A diet rich in dietary nitrates may enhance decompression safety through attenuating gaseous microbubble formation
Prescriptive recommendations for hydration are difficult due to large inter-individual differences in fluid and electrolyte homeostasis. The challenge for saturation divers is twofold; that of hyperbaric diuresis and prolonged underwater immersion. The addition of sodium within food and beverages may facilitate fluid and electrolyte restoration and maintenance of homeostasis
Meals rich in carbohydrates and fats are recommended prior to and proceeding lockout to increase energy availability for underwater work and enhance recovery post lockout. Consumption of a carbohydrate-based beverage, at a minimum of 16 g/hr, during lockout may also support physical performance underwater
Catering providers have a pivotal role in facilitating appropriate nutritional intake. Catering professionals should be encouraged to place emphasis on the food texture and presentation to increase the sensory appeal of foods in the chamber, thereby supporting increased energy intake
Abbreviations
BM:

Body mass
DCS:

Decompression sickness
EPO:

Erythropoietin
GPx:

Glutathione peroxidise
IOM:

Institute of Medicine
Kcal:

Kilocalorie
NO:

Nitric oxide
NOS:

Nitric oxide synthase
PPO2 :

Partial pressure of oxygen
RER:

Respiratory exchange ratio
RDA:

Recommended daily allowance
ROS:

Reactive oxygen species
SOD:

Superoxide dismutase
UVB:

Ultraviolet B
WBPS:

Whole body protein synthesis
Declarations
Authors' contributions
SKD and ED originally conceived the idea for this review, and SKD took overall responsibility for synthesising the literature and writing the manuscript, with ongoing critical input from ED and PAS. All authors read and approved the final manuscript.
Acknowledgements
This manuscript was developed during a project funded by an Innovate UK Grant (KTP009165) and conducted in conjunction with Fitnut Ltd.
Competing interests
The authors declare they have no competing interests.
Open AccessThis article is distributed under the terms of the Creative Commons Attribution 4.0 International License (http://creativecommons.org/licenses/by/4.0/), which permits unrestricted use, distribution, and reproduction in any medium, provided you give appropriate credit to the original author(s) and the source, provide a link to the Creative Commons license, and indicate if changes were made. The Creative Commons Public Domain Dedication waiver (http://creativecommons.org/publicdomain/zero/1.0/) applies to the data made available in this article, unless otherwise stated.
Authors' Affiliations
(1)
School of Health Sciences, Robert Gordon University, Aberdeen, UK
(2)
Department of Sport and Physical Activity, Edgehill University, Ormskirk, UK
(3)
Laboratory of Applied Nutrition and Metabolism, School of Physical Education and Sport, University of Sao Paulo, São Paulo, Brazil